Christmas Morning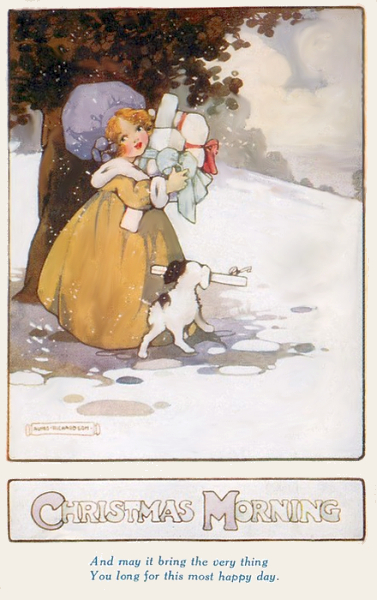 I have left this vintage Christmas postcard with the original text but to be quite honest with you, I'm not sure that I'm a fan. I love the little girl and her doggie, but the rest just doesn't match to me. If I were going to use this vintage Christmas graphic I would probably either redo the text or add my own.
And I have a bit of a confession to make. This image is not an exact representation of the original greeting card from 1920. There was a bit of a postmark and other smudges on it that I have removed. I also tried to remove some of the pixelation by blending the colors a bit. In other words, this is not an exact copy of the original Christmas image drawn by Agnes Richardson.
Agnes Richardson is a very popular artist based on the number of times her work has been "Pinned". In researching information about her life, I found either several different women with the same name who were artists or a whole lot of misinformation. Rather than invest time in research, I opted to defer to the information contained on one the the United Kingdom's largest auction house's websites and auction records. They listed her birth and death years as 1885 and 1951. I did find one site that posted her year of death as early as 1936 but most sites listed it as either 1951 or 1954. Seems odd for an artist where there are most likely people still living who knew her but then again, what do I know?
Well, what any of those three dates tells me is that not everything drawn or painted by Agnes Richardson is in the public domain. Publication date and other quirks of copyright law will determine which pieces are more likely to be free to use. As I already mentioned, this Christmas card was from 1920, which means under United States copyright law, it is in the public domain.
This postcard was published by Raphael Tuck and Sons in England. It is part of the "Oilette" series which were marketed as miniature art paintings.
The Christmas image itself is one absolutely full of charm. Flurries fall as a young girl and her little dog make their way to visit someone dear. Her arms are full of wrapped presents and the brown and white dog is also carrying one of the gifts. She has the look of a cherubic angel, something many of Richardson's pieces include (from those that I've seen). Part of what I like about this piece is that the only red is a bow on one of the packages and the only green is the leaves on the tree she is standing under. She is wearing purple, gold and white. Overall the image is one that would appeal to children and yet, it does not include cartoonish sorts of elements.
If you use this charming vintage Christmas postcard, please let me know. I would love to see what you did with it.
Thank you for visiting Free Vintage Art. Don't forget to Pin your favorite images!