Love Birds
A sweet, vintage Valentine's Day greeting featuring a pair of love birds. The pair of lovers are cuddled together under an umbrella. Protected from the rain and snow, the two look so cozy together.
A golden umbrella is held by one of the birds. He has an orange chest and belly. His lady love is slightly less colorful but no less charming.
The card was from the Crescent Embossing Company and copyrighted by Fred. C. Lounsbury. He was a novelty salesman who began selling paper goods in 1896. Some of his cards were signed by the artists, others he signed himself. This one dates from the early 1900s.
The original message reads:
To my Valentine,
Through the rain,
and through the snow,
Ever side by side we go.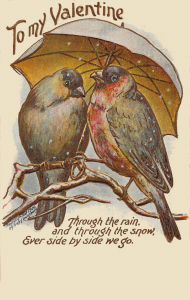 Love Birds is available in a much larger size than the one shown here. Simply click on the image shown above to access it.
Thank you for visiting Free Vintage Art. Don't forget to Pin your favorite images!