Pirate Jack-O-Lantern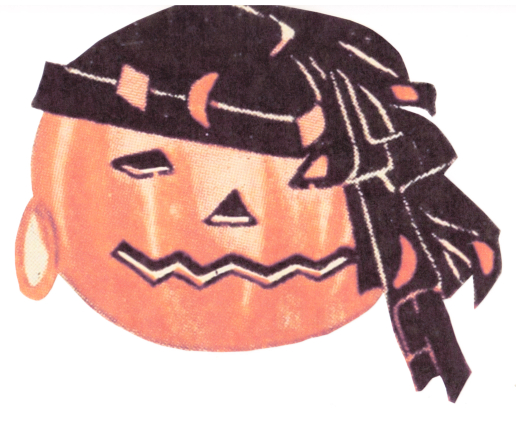 He may be a little late for Talk Like a Pirate Day, but this jack-o-lantern sure has style. With a loop earring and a crooked grin, this Halloween image is ready to rock.
I wish I had the original cardboard cut-out to scan rather than this catalog image but I'm sure that someone will make good use of this pirate jack-o-lantern. It was scanned from a 1920 catalog by Dennison Manufacturing. Dennison sold a huge variety of cardboard holiday decorations; my family had several. The catalog was more of a how to have a Halloween party guide with decorations and party favors made from the paper goods Dennison sold for fall and Halloween.
Avast me maties, I do hope one of ya's can use this here vintage Halloween image. If not as it is now, maybe as a template to create your own, more modern piece.
As always have fun and do share with us what you've made.
Thank you for visiting Free Vintage Art. Don't forget to Pin your favorite images!