Deer Drawing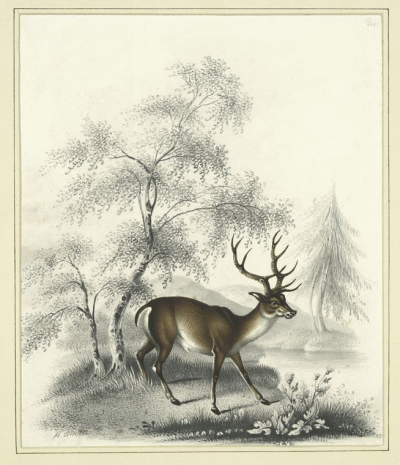 I liked this vintage deer drawing as soon as I saw it. Once I learned a little more about the artist, I thought it was even more of an interesting piece.
To me, the work has a bit of an Oriental feel about it. Yet, the best I can tell the artist never left his home country of Great Britain. Henry Thomas Alken was known for his sporting images – paintings, etchings and drawings of hunting. However, he was known to take a comical, almost cynical view of things and many of his works show the game getting the better of hunting dogs or horses getting the better of their riders. Few are as serene and simply beautiful like this deer drawing.
Alken was born in 1785. His father, Samuel Alken was also an artist. His father was his first teacher and he also studied with the miniaturist John Thomas Barber Beaumont (1774-1841). Alken and his wife, Maria Gordon would have five children, two of whom also became artists.
The bulk of Alken's work includes horses and prey animals were shown being hunted. To me, that makes this particular drawing even more interesting in that it is so different from the bulk of his work. The style and limited use of color are also quite different from the other pieces of Alken's that I've seen.
I've removed some of the more obvious foxing from this deer drawing but otherwise have left it as it is in real life. It is thought to have been completed between 1820 and 1830. At almost 200 years old, is it any wonder it is showing its age a bit?
In this deer drawing, we have a proud stag at the water's edge. He appears quite alert to the world around him. He stands beneath a small tree with a smaller offshoot and in front of a clump of flowers of some kind. Only the brown fur of the deer and his antlers provide color on the drawing, the rest was done in pencil.
I like this deer drawing for both its curious departure from the artist's other work and the somewhat Oriental appearance. I hope you find it interesting as well and find a great new home for our deer friend.
Thank you for visiting Free Vintage Art. Don't forget to Pin your favorite images!