House Fly Drawing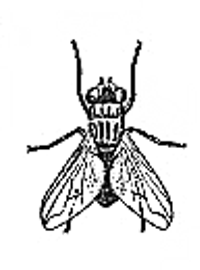 Bigger than life-sized, this house fly drawing could lead to a lot of fun. He looks quite real despite being only drawn in black lines. I think he could easily be added to a wide variety of projects.
This fly was drawn and included in a book about pests in New Zealand. A number of online sources have indicated that the entire book is in the public domain though the author, D. Miller, may have died less than 70 years ago. It is believed the book was published sometime during the second decade of the 1900s.
I did try to increase the size of this housefly a bit and he did fuzz a little. Reducing him to a smaller size does make him look better though.
I'm not sure what much else I can say about this one other than have fun with this quirky little house fly drawing. Put him in places unexpected and creative. Let me know what you come up with. I would love to see it.
Thank you for visiting Free Vintage Art. Don't forget to Pin your favorite images!