Cupid's Delivery
Such a sweet Vintage Valentine's Day card. Cupid's Delivery depicts Cupid delivering the sender's heart to their sweetheart. Cupid is delivering the heard through the recipient's window. A window surrounded by purple and blue wisteria vines.
Cupid wears only his golden quiver and little white wings. The blond cherub is oh so cute.
The original Valentine's Day greeting is as follows:
Cupids watching round your home,
To show this heart of mine,
And give to you this message,
"Please be my Valentine."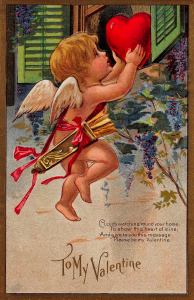 This vintage card bears a postmark of 1909, putting it in the public domain within the United States.
Thank you for visiting Free Vintage Art. Don't forget to Pin your favorite images!