Christmas Sleigh Ride
How festive is this Mother and daughter? Draped in furs to keep warm, the pair appear to be delivering a special Christmas present.
This 1908 Christmas Sleigh Ride drawing is from the January 1908 St. Nicholas Magazine. It's signed Hope Dunlap. Dunlap was born in Topeka, Kansas in 1881 and was trained at the School of Art Institute of Chicago. Sadly, like so many of the talented illustrators of that period, we only remember them from the works they leave behind and very little is known about their lives.
The colors on this cover illustration are quite bright; from the yellow of the sleigh's upholstery to the bright red earmuffs on the little girl's head. A box, wrapped in a red ribbon and nestled on boughs of holly, provide a clue to the pair's destination. They've either been shopping for that gift or are delivering a gift to someone special.
Don't you just love the little girl's fur muff? It's almost as big as she is.
This vintage Christmas illustration is in the public domain (in the USA) since it was published prior to 1920.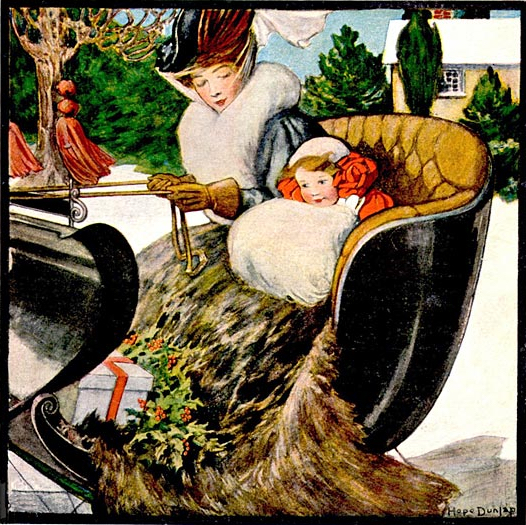 Thank you for visiting Free Vintage Art. Don't forget to Pin your favorite images!