Poinsettia Flowers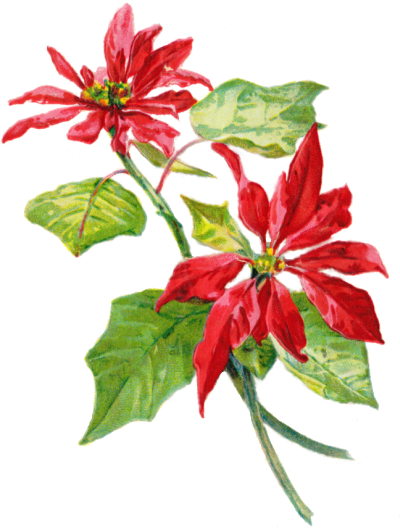 I'm so excited to be sharing this vintage poinsettia flower image with you. It is from a collection of vintage Christmas picture postcards that I was able to snag during a recent thrift store excursion. It was published in 1909 by the Raphael Tuck and Sons publishing company. My card was used to convey Christmas greetings to a young girl named Kate, who lived in Ohio. The writer lovingly wished that Santa will fill Kate's Christmas stocking from top to toe.
The original card, having been sent in the mail, was a little damaged with a few creases. I removed the creases and the original background for you. There was some bluish shadows but due to the age and condition of the card, it no longer looked nice. I suppose you could add some blue or other shading back if you wanted to. To me, the original just looked like someone had smeared some color onto the card before printing the flower image.
The original card wished "A Happy Christmas" and displayed a quotation from Thomas Fuller.
Be happy in this
present moment,
and put not off
being so to a
time to
come.

~ T. Fuller
I admit that I had absolutely no idea who the T. Fuller the card identified was and why Tuck would use his words on one of their cards.
Unfortunately,  there appear to be at least two gentlemen named Thomas Fuller who were scholars and said many things that history has documented. After reading about both, one from the 1600s and one from the 1700s, I'm left not knowing who the author of this quotation actually is. Maybe someone who is a better student of history than I am can fill us all in.
In the meantime, I do hope you enjoy my poinsettia image and can't wait to hear from you and see what wonderful things you have done with it.
This poinsettia image was filed in the following categories on Free Vintage Art: Flowers and Holiday Images » Christmas
Thank you for visiting Free Vintage Art. Don't forget to Pin your favorite images!