Christmas Candelabra
This is another one of those special little finds that come through patience. One of only two images in the entire book, I think this is probably a print foundry sort of stock image. It was used at the end of the book to separate some final bits of business but it reminds me of Christmas. This Christmas candelabra image has a central candelabra with three lit candles. It has floral garlands that are attached to two simple wreaths.
It is pretty much a simple line drawing which means you could easily color in the image to make it truly your own.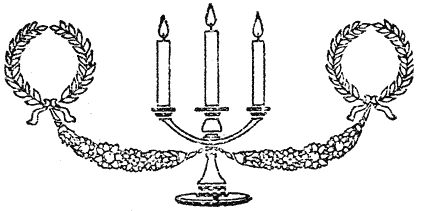 If you are curious, the book it was used in was Harry F. Marks Catalogue No. 4, 1919 Choice and Unusual Books a catalog of books from that year.
Thank you for visiting Free Vintage Art. Don't forget to Pin your favorite images!