Angel with Lambs
Such a sweet little Easter card to share with you today. There is no information to date this one precisely. However,  it does suggest using a one cent stamp, so it is most likely in the American public domain.
A sweet little angel with lambs sitting on a hillside. They're surrounded by bright green grass and blue and yellow flowers. She's wearing a blue flowered dress and holding a bunch of what could be daffodils. Sunbeams filter through colorful clouds. The angel is petting one of the lambs while the other two lambs appear to watch over both. Shades of blue, green, pink and yellow decorate the sky. Overall, it's a lovely Easter greeting.
Unfortunately, this card bears a greeting that's hard to read. I debated removing it for you but I doubted that I could retain the overall dotted nature of the printing. I'll leave it to you to decide to keep the Easter Greeting subtle or replace it with stronger lettering.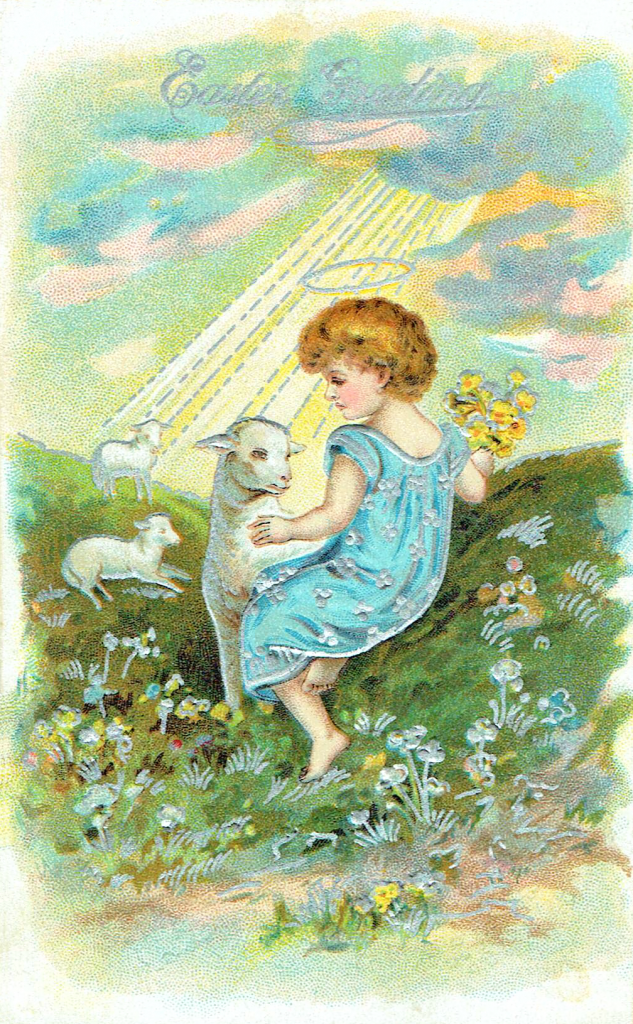 This angel with lambs vintage Easter image is much larger than what I've shown here. To view the larger image, just click on the one shown above.
Thank you for visiting Free Vintage Art. Don't forget to Pin your favorite images!