A Happy Easter
Happy Easter Everyone!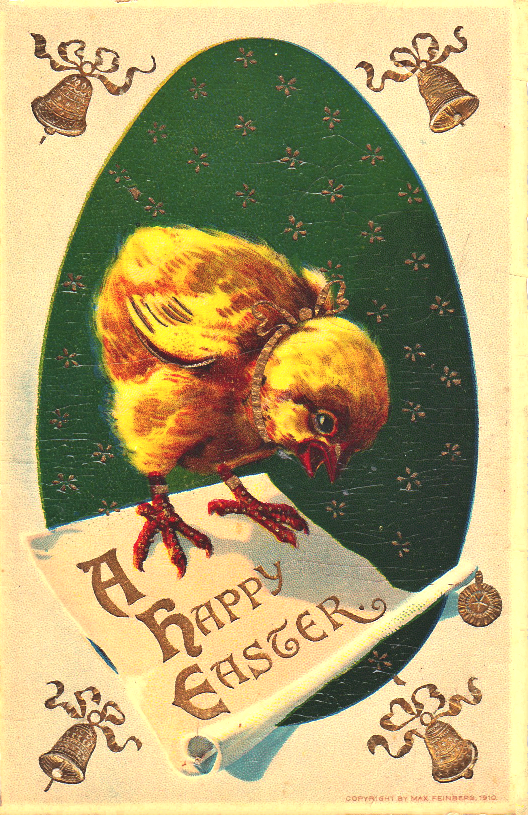 It just somehow seems appropriate to add my first vintage Easter image on Easter Sunday. We went to Brevard and visited the Silvermont Park and Mansion. It was oddly empty for such a beautiful sunny day, even if it was Easter. It seemed the sit-down restaurants were seeing the most activity. We were happily surprised by how much was actually closed for either Sunday or Easter.
The post card that I'm sharing with you is from my own collection. The front of the card bears a copyright of Max Feinberg, 1910. Like so many of the beautiful postal cards from the time, it was printed in Germany. Spending a few moments of searching, it seems that Feinberg was the artist of my postcard and a number of others but unfortunately his name is quite common and there doesn't appear to be much written about Max Feinberg, the artist.
The card appears to have been printed in three layers, a chromolithograph, then gel and then a gold foil overlay. The entire card looks and feels as if it was varnished or lacquered. Some of the odd bits of swirls and stripes on the card are from cracks in this finish.
Gold bells and ribbons adorn each of the four corners of the card. In an egg-shaped central image, there's a cute little yellow chick with a golden bow. He is standing on a scrolled message that reads "A Happy Easter." The egg is dark green and the egg is decorated with golden asterisk-like flowers.
The little yellow chick isn't quite the cutest that I've ever seen but the colors are quite bold and do not appear to have suffered from being over 100 years old.
Thank you for visiting Free Vintage Art. Don't forget to Pin your favorite images!