Valentine Greeting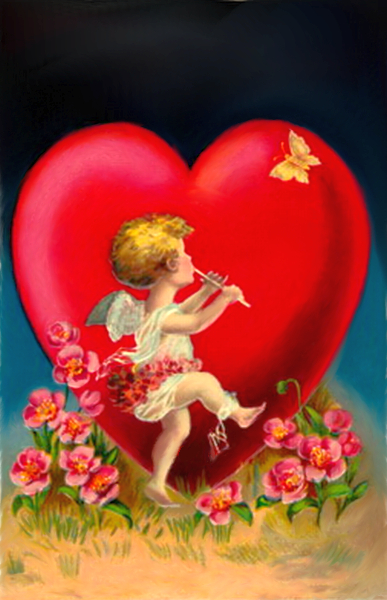 Here we are, the day after Christmas. While I hope you are still enjoying the holiday with your family, I thought I would get a bit of a head start on the next big crafting holiday – Valentine's Day.
More than a little editing went into restoring this vintage Valentine's Day postcard. The text was so terribly faded that I thought it would look better to simply remove it completely. I did, however, leave the space at the top of the card where the text was so that you can add your own.
I can tell you that it dates to no later than 1913, as indicated by the postmark. There is a series number and a publisher's mark indicating that this holiday postcard was published in Germany but there is no other information about the origin of this Valentine greeting. "Valentine Greeting" was the original message that appeared on this card. Unfortunately, it was faded out and hard to read. I went ahead and removed it so now you can make this Valentine's Day card say anything you want.
This postcard has a charming little winged Cupid playing his flute. He is dancing among pink and yellow flowers and has made a garland of blooms that he is wearing around his waist. He has a heart on a chain ready for to enchant his next victim. A yellow butterfly flies across the top of the heart.
With a little bit of careful trimming, it probably wouldn't be to hard to remove all of the blue background and turn this into more of a die-cut image that you could use as a small Valentine or as part of a pop-up card.
Thank you for visiting Free Vintage Art. Don't forget to Pin your favorite images!