Vintage Patriotic Poster
"Be Patriotic" was a World War I poster designed by the artist Paul Stahr. It is typical of the patriotic posters from World War I in that it aimed to be spiritually uplifting and depict the ideals for which Americans were fighting.
Paul Stahr (1883-1953) is more well-known as a pulp artist, an illustrator of those inexpensive fiction magazines that were published from 1896 through the 1950s. Pulps were printed on cheap paper which was what gave them their name. They often featured sensational cover art and led to the superhero comic books that would follow their style.
This free vintage art patriotic poster was part of a propaganda effort by President Woodrow Wilson to mobilize American society. Keep in mind, this was back in 1917 – no TV yet and limited radio access. Many famous artists donated their time and talents to creating posters that urged enlistment, conservation, industrial mobilization, subscriptions to Liberty Loans and other patriotic duties.
In this particular poster, we have a pretty red-haired lady appealing to the public. She is draped in the American flag and is holding her hands out as if asking for help. I think the poster is wonderful for its simplicity.
While Uncle Sam may be the far more recognizable symbol of American patriotism, this fair lady is Columbia. Columbia was a name that had been associated with the United States since 1738. Stahr's version of Columbia is perhaps one of the most famous but her appearance varied from artist to artist though most did clothe her in the American flag.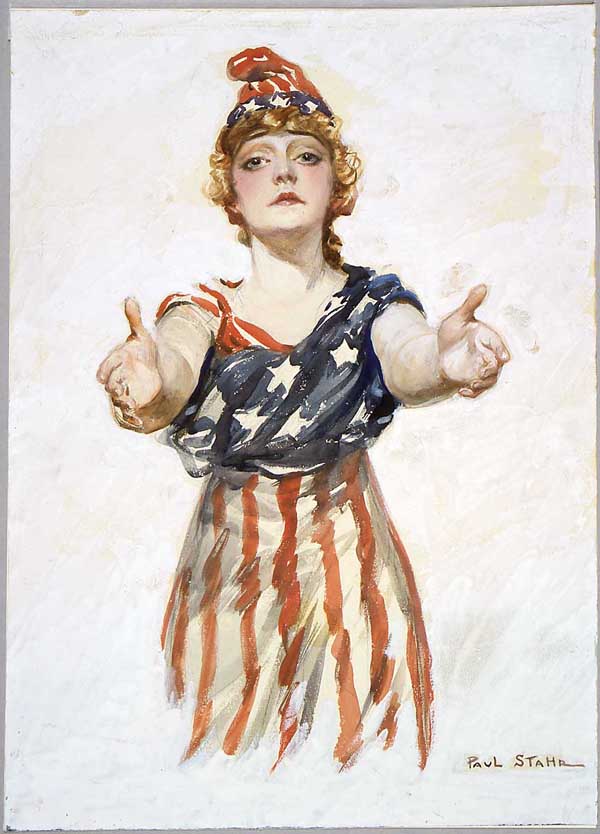 Thank you for visiting Free Vintage Art. Don't forget to Pin your favorite images!