Rosemary for Remembrance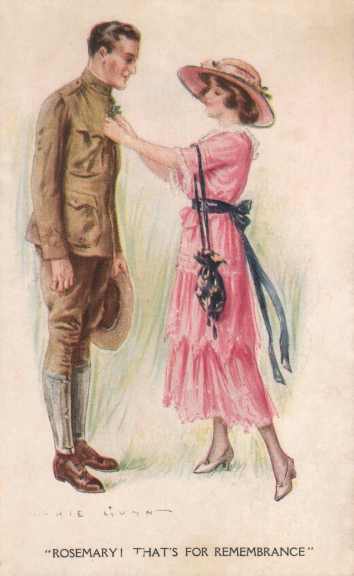 For hundreds, maybe even thousands of years, young women have been sending their sweethearts off to war with a sprig of rosemary for remembrance. (rosemary history) This vintage patriotic postcard from World War I has a young lady pinning a sprig of rosemary to the lapel of her departing soldier.
This postcard art is the work of Archie Gunn, a British-born artist who would later immigrate to the United States. He was born in 1863 and died in 1930 – which means all of his wonderful work is in the public domain, including this lovely postcard.
A pretty young woman wearing a pink dress with a contrasting blue sash and lace collar and cuffs is pinning a sprig of rosemary on the lapel of a soldier. The Ancient Greeks were known to use rosemary as they believed it strengthened the memory and served as a symbol for remembrance. The young soldier looks adoringly at his lady love in her charming straw hat with pink ribbons and flowers that match her dress.
This romantic and patriotic postcard entitled Rosemary for Remembrance can be freely used in your own creative projects including scrapbook pages, mixed media art and websites.
Thank you for visiting Free Vintage Art. Don't forget to Pin your favorite images!