Every Girl Pulling for Victory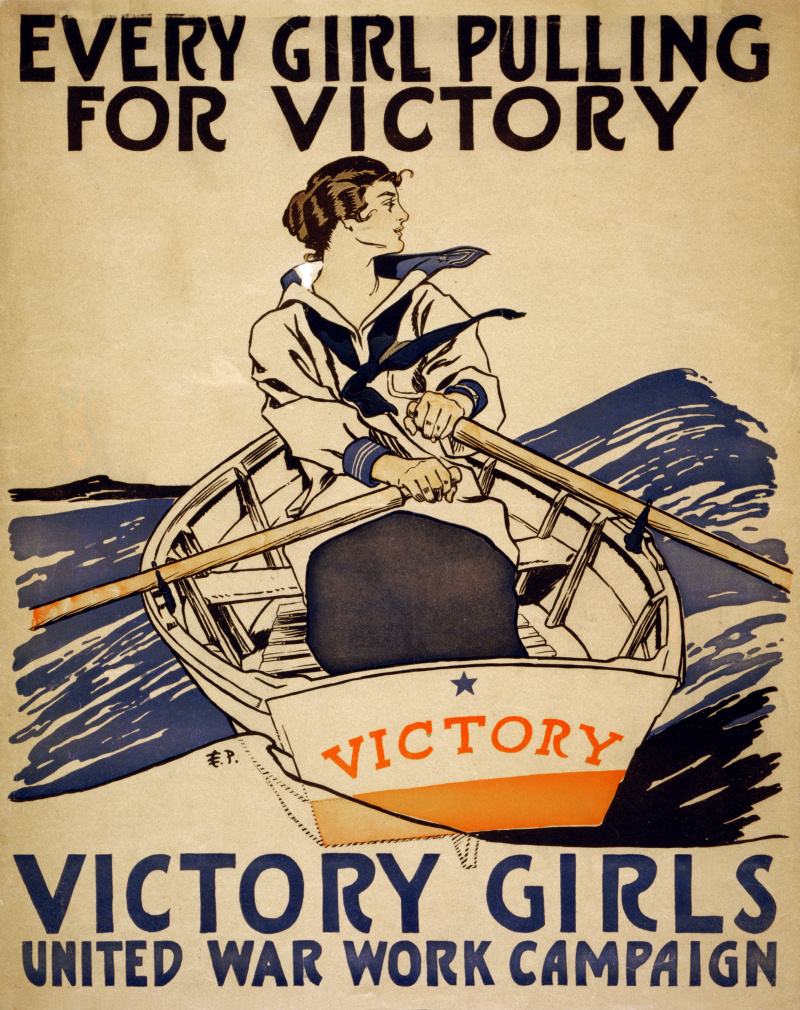 Every Girl Pulling For Victory is a World War I patriotic poster designed by Edward Penfield (1866-1925). Penfield was a famous illustrator and considered by many to be the father of the American Poster. He was known for posters which stood out and could be enjoyed from a great distance. During his time, reproduction methods were still limited. He used simple shapes and a limited color palette to make the most of what was available.
In this World War I propaganda poster, we have a Liberty Girl dressed as a sailor pulling a rowboat through what appears to be strong seas. The girl has strong, masculine features, perhaps to help convince women that they are stronger than they think. This was a time when many women were taking on factory work and filling the roles normally filled by men now far away at war. Her boat is entitled the Victory and the poster is promoting the Victory Girls United War Work Campaign.
The United War Work Campaign was formed in 1918. It was comprised of the YMCA, the YWCA, the Knights of Columbus, the American Library Association, the Jewish Welfare Board, the War Camp Community Service and the Salvation Army. They had a goal of raising over $170 million to help fun the War efforts. Penfield's World War I propaganda poster, and others like it, were used to encourage donations of money and charitable service.
Thank you for visiting Free Vintage Art. Don't forget to Pin your favorite images!