Patriotic Wishes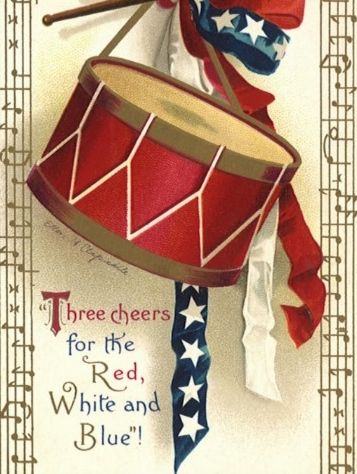 I've always wondered what it would be like to truly represent my country. Not by merely being a citizen, or proudly wearing a military uniform but wearing a uniform that only a well-deserved few will earn the right to wear at a time when literally the entire world is watching. The Olympics. A dream of most athletes. A reality for a scant few.
I know as I write this that all the hoopla scheduled for today is over. The opening ceremonies went off with nary a hitch. Yeah, there was some technical glitch with one display, but all in all, sounds like it went pretty much according to plan. Yay for Sochi. Yay for Russia. and Yay for all of the athletes and their families. And the biggest Yay for all the folks who worked so hard to produce the grand celebration of Russia and sport that I am looking forward to seeing in a few hours.
Anyway. I spent some time looking for a patriotic image to use to show the colors and wish the athletes well with a few vintage patriotic wishes. I knew beginning my search that most would be more militant in nature and all of them with flags would have fewer stars represented than it does now.
I finally came upon this one and thought it fit nicely for wishing our American Olympians to perform their best while hopefully having the thrill of their lives doing so. "Three cheers, for the Red, White and Blue"! I often wonder how they are able to keep the adrenalin in check when they are competing. It just seems so very huge to represent your country at the Olympics.
With this vintage postcard, I think the drum imagery kinda fits today with the Parade of Nations that is such a major part of every Olympic Opening Ceremony. It doesn't have a flag but red, white and blue ribbons with stars.
Anyone familiar with vintage American postcards probably recognizes that signature. This postcard was created by Ellen Hattie Clapsaddle (January 8, 1865 – January 7, 1934). Clapsaddle was one of the most prolific artists during the heyday of the postcard in the early part of the 20th Century.
Anyway, here's my little public homage to the dedicated athletes who are living their dream in Sochi and some patriotic wishes. Good luck. Be safe. And we'll be routing for 'ya.
P.S. My heart broke for Heidi Kloser when they showed her horrific fall on the moguls during a practice run. "Am I still an Olympian?" she asked. Oh my dear, you will always be an Olympian. Sending you warm wished for a speedy recovery.
Thank you for visiting Free Vintage Art. Don't forget to Pin your favorite images!