Parting is Such Sweet Sorrow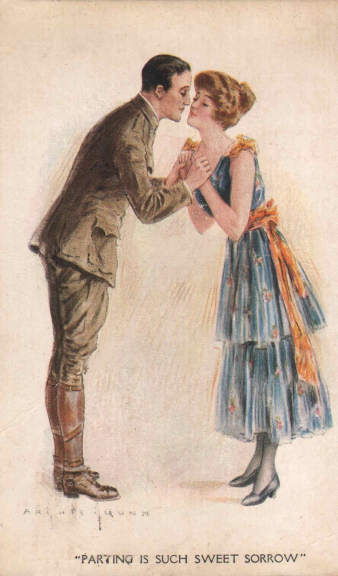 Parting from our loved ones is always hard but it's perhaps the most difficult when we are saying goodbye to someone heading off to war. In this World War I era postcard, artist Archie Gunn (1863 – 1930) says it all without saying anything at all in this work entitled Parting is Such Sweet Sorrow.
A young couple, with eyes closed, perhaps kiss for the first and last time as he heads off to war. The pretty young woman is wearing a blue dress with yellow accents and a yellow sash. Her soldier is wearing his uniform and looks ready to ship out. How chaste their kiss is with their bodies so far apart from each other.
Sadly, despite fighting the "war to end all wars" our young people continue to send their sweethearts off to war. While their clothing has changed and sometimes it is the lady who is marching off to war, the sentiments expressed in this vintage postcard are timeless. Though one does hope that there will come a time when we humans stop fighting wars with each other and sweet sorrows such as those depicted here will be only the stuff of memories.
Thank you for visiting Free Vintage Art. Don't forget to Pin your favorite images!