Valentine Post
The postcard is from 1910, but, the message this Valentine Post brings is timeless. A sweet white dove delivers a tiny Valentine it holds in its beak. The lady might be sending or receiving the greeting but either way, this vintage Valentine Post is full of charm.
Pink and maroon chrysanthemums and a ribbed golden ribbon surround the lady's hand, the dove and a huge red heart. The card is from E.Nash and was part of the Birthday Lover Series.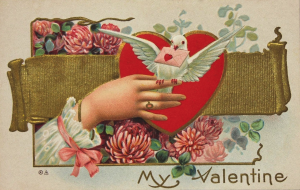 Thank you for visiting Free Vintage Art. Don't forget to Pin your favorite images!