The Swallow Falls, Bettws-y-Coed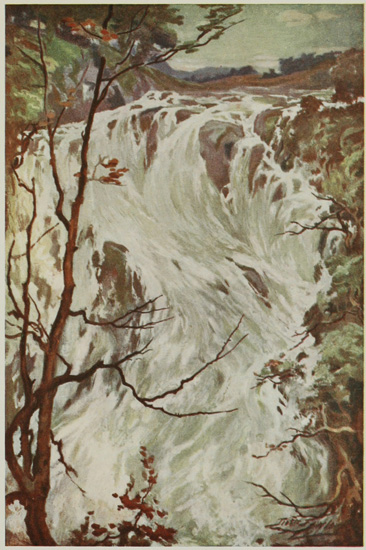 The Swallow Falls in Bettws-Y-Coed are said to be the finest waterfall in all of Wales – at least according to Gordon Home's 1911 work The Motor Routes of England, Western Section. In his book, Home shares popular destinations throughout his country that could be accessed by the early automobiles – remember no SUV's back then and many roadways were still primarily used by non-mechanized vehicles.
Like all of the English landscapes in his book, Home did not identify the artist of this waterfall painting. It is signed but I unfortunately can't make out the signature. I found an English antique print gallery selling a very similar piece and identifying Robert Fowler R.I. (1853 – 1926) as the artist. Other than a bit of pink and orange shading, the print and our image look virtually identical.
According to the Betws-y-Coed website (www.betws-y-coed.co.uk), Swallow Falls is on the River Llugwy (Afon Llugwy in Welsh) and has been a popular destination for over 100 years.
It's hard to say without visiting the Swallow Falls (Rhaeadr Ewynnol in Welsh) if the view in this English landscape painting is the same as can be seen today. The painting shows the falls in their glory with water cascading down the rock face in all its fury. The water is virtually white with power. It must have been early fall as some of the trees are just starting to display their fall colors.
Thank you for visiting Free Vintage Art. Don't forget to Pin your favorite images!