Lichfield Cathedral
This, the first of our English landscape images on FreeVintageArt.com is of the lovely Lichfield Cathedral in England. This painting may have a maker's mark in the bottom left corner but the author of the tourism book in which it appears did not share who the artist was.
The book, entitled Motor Routes of England, Western Section was written by Gordon Home and published in 1911. Keep in mind, back in 1911, it was rare for a family to own a motorized vehicle and finding routes to travel from place to place was not always easy as many "roads" were still nothing more than horse trails and carriage roads subject to flooding and an uneven surface.
Lichfield Cathedral is located in Lichfield England. It is only 17 miles north of Birmingham. For over 1300 years, the site has been a place of Christian worship. In 700 A.D. it housed the mortal remains of Chad, Bishop of Mercia. That Saxon church was replaced with a Norman Cathedral and in 1195 the building depicted in this landscape painting was begun. The Cathedral went through several attacks, restorations and additions. More information can be found about the history of Lichfield Cathedral on their website Lichfield.
Along with what some consider the most beautiful cathedral in England (the medieval Flemish glass is thought to be some of the finest in existence), we have a bucolic landscape of a woman and child at a lake feeding a pair of white swans and some ducks or geese. It appears to be a lovely day, though the sky is quite cloudy. Trees cover the landscape – the original travelogue mentioned the area was quite lovely for its natural, undeveloped state. A large tree balances out the height of the cathedral.
As a bit of an added bonus, this image could easily be cropped to show just the cathedral or the lake with the ducks, swans and people.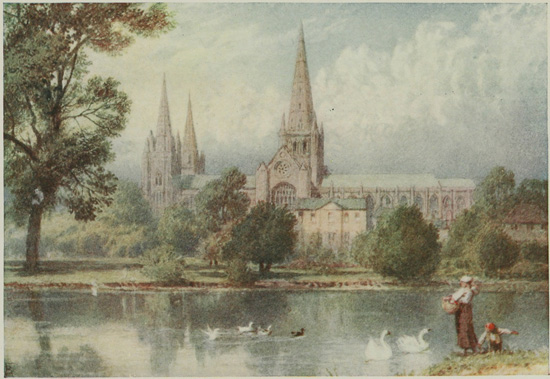 Thank you for visiting Free Vintage Art. Don't forget to Pin your favorite images!