Shrewsbury House, Chester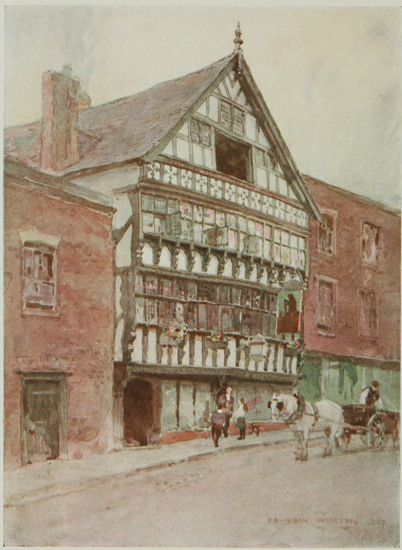 This is the second of our wonderful finds from a vintage book on motoring across England from 1911. Like our first English Landscape Drawing, Lichfield Cathedral; this work has not been attributed to a particular artist. Their signature and the date of their work is present but is unfortunately unreadable. Too bad, the author, Gordon Home did not acknowledge all of the wonderful artists represented in his book.
This picture shows one of the most famous buildings in Chester, England. At the time the book was published, it was still referred to Shrewsbury House. The current Shrewsbury House was built in 1664 after Civil War destroyed the original building. It is considered one of the finest examples of this style of architecture in Chester – black and white half timbered. It originally was the town house of the Earls of Shewsbury and may at one time have served as a warehouse. The building was used as an inn since the 18th century.
Around 1820, it became the Bear and Billet – a traditional English pub. The building has since been designated historically significant – the English refer to is as a "Listed Building, Class I". It is on the list as No.94 Bear & Billet Public House. You can learn more about the pub on their website Bear & Billet.
The building and those that surround it have changed very little in over 300 years; it remains today much as it is seen in this landscape drawing. Other than the horse and wagon being replaced by motorized vehicles and the cobblestone street being replaced with macadam, it's as if time has stood still on Lower Bridge Street in Chester, Cheshire, England.
Thank you for visiting Free Vintage Art. Don't forget to Pin your favorite images!