Billingsgate Sketch
The book was entitled Medieval London. It was published in 1901. It contains some lovely English landscape drawings of London including this one of Billingsgate.
Billingsgate is described as a small ward but it is home to the Billingsgate Market which the City of London website identifies as having the "largest selection of fish in the United Kingdom." It is situated on the northern side of the River Thames between the London and Tower Bridges.
This drawing is neither from the turn of the last century nor the Medieval period. It was most likely drawn in the middle of the 16th century. The artist is identified as Antonie van den Wyngaerde although some sources spelt his name as Anton or the Spanish Antonio de las Viñas. He was a Flemish artist most well-known for his panoramic sketches of towns in the Netherlands, England, France, Italy and Spain. He was born around 1525 and died in 1571.
The book had several English landscape drawings, but I thought the Billingsgate sketch was the best one for reuse by modern crafters and artists. I think it would make a wonderful piece and do hope if anyone uses it that they will share their work with the rest of us.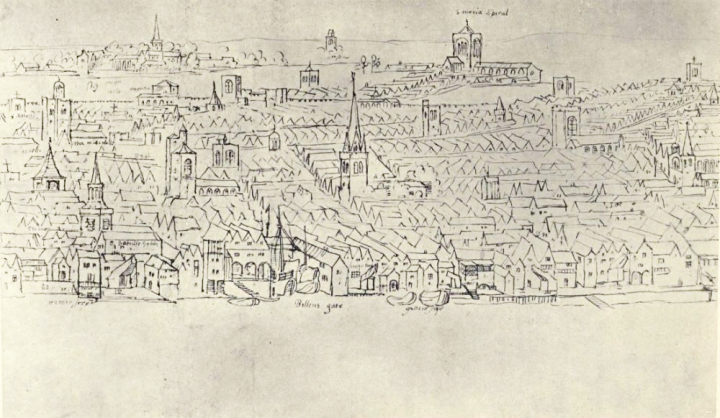 One thing that really strikes me about this drawing is the number of what appear to be churches in the drawing and that many of the smaller buildings are three stories tall. It always amazes me to see these well-developed cities built at a time when they only had hand tools. Even each and every nail was
hand-fashioned – no going down to the local big box hardware store for a box of 100 nails.
By the way, I doubt that you will find this exact view today. While it is certain some of the buildings have been replaced, Wyngaerde was known for showing a city's best side in his work. If that meant turning a building around to "face the camera" so to speak, he would.
Thank you for visiting Free Vintage Art. Don't forget to Pin your favorite images!