Tan & Brown Moth
I really like this tan and brown moth drawing. It was part of the frontispiece of an 1881 book entitled Half Hours with Insects that was written by Alpheus Spring Packard, Jr.
The entire frontispiece includes the life cycle of a pair of months. I've split the image in half for size as well as to showcase each of the lovely moths. If you want to see the other moth image, you'll find it here…Moth with Orange Spots Drawing.
I've taken the brown moth drawing and further edited it to include the moth alone as well as the original showing the entire life cycle of this beautiful winged creature. The moth is in flight over what looks like a small creek. On the bank of the creek on some green grasses, you'll find the caterpillar of this moth.
I wonder if the caterpillar with the orange markings below the brown moth is actually a caterpillar for the other moth from the original image. As this moth doesn't have orange, it would seem it is not the same species but then again, the illustration does seem to show each moth on half of the drawing. I'll leave it up to you to use both halves of this frontispiece, just one or even do a bit more editing of your own.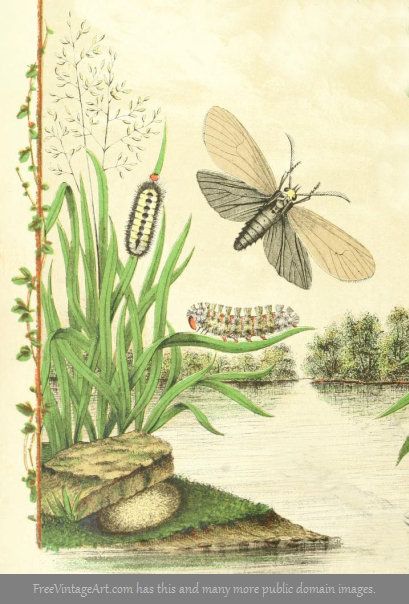 Thank you for visiting Free Vintage Art. Don't forget to Pin your favorite images!