Moth Life Cycle Drawing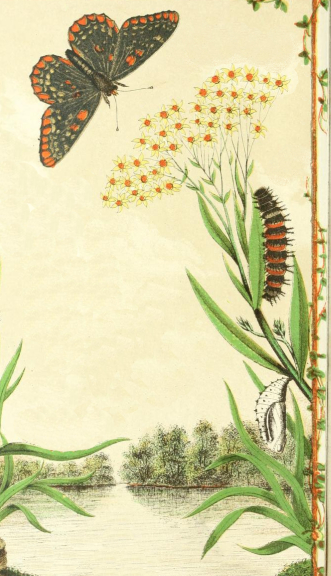 This colored book plate came from a book from 1881 entitled Half Hours with Insects by A.S. Packard Jr. There was no mention as to the artist who created this work. What a clever idea, share a little information about a number of different insects.
This colored moth life cycle drawing shows the life cycle of a lovely black and orange moth. I'm not sure what it is called. The drawing shows the insect transforming from chrysalis, to caterpillar to fully grown moth, all on one lovely flowering plant. The plant has small, daisy-like yellow and orange flowers.
I've cleaned it up a bit and re-sized it to fit on a 4 by 6 inch-sized card.
Thank you for visiting Free Vintage Art. Don't forget to Pin your favorite images!