Halloween Cat & Pumpkin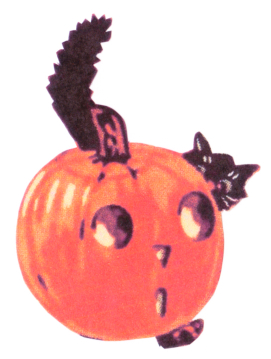 This isn't a super huge image, but I do think for our first Halloween image it's a cute one.
It is from a 1920 publication by Dennison that offered a wonderful collection of ideas for Halloween parties while also advertising their paper holiday decorations.
They offered this Halloween cat and pumpkin image as a cut out piece to be used with party favors. They suggested making a small, crepe paper bag with draw stings and pasting the black kitty and orange jack-o-lantern to the side of the bag.
The Halloween image that I've shared with you prints at about 3 inches high by about 2 and 1/4 inches tall at 120 pixels or 359 pixels by 271 pixels on screen. What it lacks in size, it makes up for in charm and whimsy.
I just think there's something fun about black cats and Halloween. The cats can be spooky and dramatic-looking or sweet and charming like this little one. The jack-o-lantern looks a bit worried that the cat is sneaking up on him. Yet, the black kitten, with her tail fur standing on end looks as frightened as the pumpkin does. It matches a bit of the fun spookiness of Halloween with a whole lot of cute kitten-ness.
The artist was probably some staffer with the firm and wasn't recognized. But, let's hope they would love to know that all these years later we are still enjoying their work.
Thank you for visiting Free Vintage Art. Don't forget to Pin your favorite images!