Pink Christmas
It's a pink Christmas on this circa 1908 Columbia Novelty Company Christmas postcard.
Start with a plain white postcard. Emboss a charming drawing of Santa Claus flying above a small village and you'll have this very unusual vintage Christmas illustration. Gold trim adds contrast to Santa's hat and coat. It decorates the side of his sleigh and the runners. A pair of reindeer are wearing golden harnesses and have impressive golden antlers. Before the gold accents were added, shades of pink were washed across the whole image. Santa is in a bit of a white glow, making him the star of the show. He is carrying a holly sprig. Toys ride beside him in the sleigh. And, he has not one, but two American flags flying with him.
Overall, a subtle sort of illustration, except for the bright pink on the side of one of the reindeer.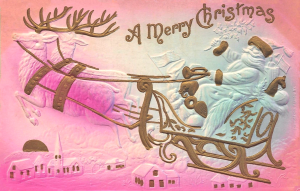 A much larger version of Pink Christmas is available by simply clicking on the image shown above.
Thank you for visiting Free Vintage Art. Don't forget to Pin your favorite images!