Christmas Nativity – from Norway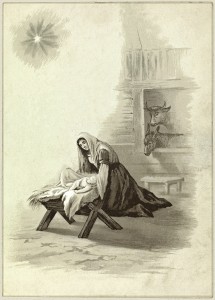 This vintage Christmas Nativity image comes from Norway. I don't know anything about this piece, other than the National Library of Norway has shared it with the world and marked it as having no known copyright restrictions.
But, the great news is that this image is absolutely huge. Just click on the image displayed in this post and you can get the full-sized version.
I think it is a sweet and lovely image to celebrate Christmas. There's an ox and a mule watching over Jesus and Mary at the manger. A stall, a bench and the North Star are the only other elements of this quiet, yet dramatic depiction of the Holy Nativity.
There were originally words, in Danish, underneath the star but they were a bit faded and well, they were in Norwegian. If you really want this with the original Danish, let me know and I'll email it to you.
Google translated it to:
Peace on earth, joy on earth
Baby Jesus lives among us
Angels sing for the young child so beautiful
There he has of heaven ophukt!
Blessed is Englencs Song
ophukt and Englecs unfortunately didn't translate .
Perhaps you could add your own greeting or leave it blank. Either way, I hope you enjoy this Christmas Nativity image.
Thank you for visiting Free Vintage Art. Don't forget to Pin your favorite images!