Mistletoe and Holly
This vintage Christmas card dates back to at least 1907, the year it was mailed. It was a little worn around the edges and the text was particularly faded. I took the liberty of replacing the old text while keeping the original message as well as trimming things a bit and getting rid of the small spots from foxing.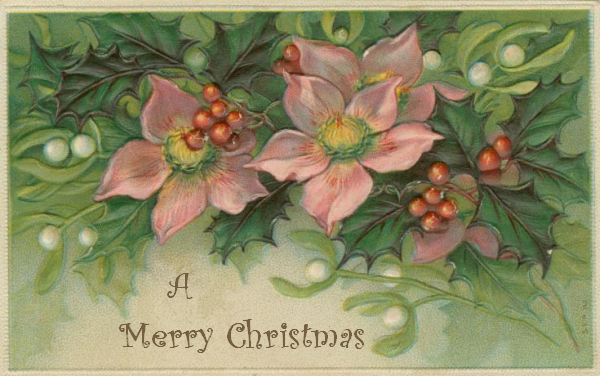 I knew this Christmas card had mistletoe and holly but I wasn't sure about those pink flowers. I know holly has flowers but the different varieties in our garden all have white flowers that are far smaller than what appears on this card. Mistletoe, on the other hand has a number of varieties with pink flowers. But, after a little digging, I'm fairly certain the pink flowers on this card represent the Christmas Rose plant.
The Christmas rose is actually the hellebore plant and is not a member of the rose family. Folklore has the plant's connection to Christmas stemming from an old legend of a young shepherdess named Madelon. The legend tells of the Wise Men and other shepherds walking to bring gifts to the Christ child. Madelon, too poor to bring a gift of her own, looked for flowers to bring the Holy Child. Not finding any, she began to weep. An angel visited Madelon and brushed away the snow to reveal a flower. That flower is now forever linked to the Birth of Christ and is known by many around the world as the Christmas rose.
I hope you enjoy this vintage art full of mistletoe, holly and pink Christmas rose flowers.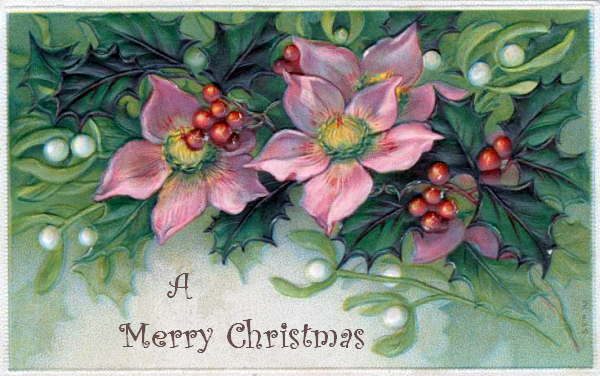 While writing this post, I thought the image looked a bit washed out. With a little editing, I made the colors more bright and the contrast greater. Use the original or the modified one as you wish. If possible, please let everyone know that you found this lovely Christmas image on FreeVintageArt.com.
Thank you for visiting Free Vintage Art. Don't forget to Pin your favorite images!