Hanging Wallpaper – Part 3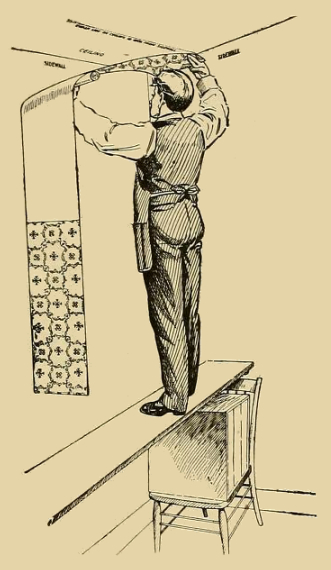 This is the third part in a series of five vintage illustrations on hanging wallpaper. In this installment, we are being shown the proper way to hang ceiling wallpaper. Granted, it's not as popular as it once was, the techniques for hanging ceiling wallpaper haven't really changed all that much since 1906.
Sears, Roebuck and Company included in their 1906 wallpaper catalog samples of their papers along with a fully illustrated and detailed set of instructions on the proper techniques of paper hanging.
They use a trimmed piece of wallpaper that was 18 inches wide. The made a chalk line 16 inches from the side wall. That allows for two inches of paper to cover the side wall and hide whether or not the room is completely square.
They also show a clever way to build a scaffold to hang the paper. What they forget to suggest is making sure there's another person helping you and ensuring you or your scaffolding doesn't fall.
Thank you for visiting Free Vintage Art. Don't forget to Pin your favorite images!