Oncoming Train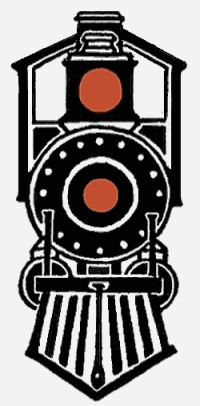 Love this clip-art style train image. It has a frontal view of an oncoming train with a pair of red lights letting everyone know it's coming.
I found this oncoming train image in a book published in New York in 1897. It adorned the title page. The publisher didn't credit an artist for this or any of the other illustrations that appeared in the book.
I cleaned up the image somewhat for you – straightened out some lines, got rid of some of the image bleed and evened out the black areas. I have no doubt that some of you could make it look even sharper, but I've also been told people like the 'vintage look' from these old engravings. You could easily change the overall color of this train image or just change the pair of lights to another color (like I did with the featured thumbnail image).
I took a moment to look up the history of rail transportation. Mom often tells me of how teams of horses pulled the streetcars in New  York. I guess I always assumed that horse-driving rail transportation would be part of the earliest history of this mode of transportation. Sadly, it was human slaves who powered the first rail transportation back in the 6th century BC. The rail cars traveled on limestone tracks. The Diolkos wagonway ran for over 600 years.
I would guess the train pictured here is meant to represent one of the steam engines which helped to open up the American landscape to settlers, immigrants and tourists.
I like the simple and clean lines on this drawing and thing it would work well for a number of types of creative endeavors, including rubber stamping.
Thank you for visiting Free Vintage Art. Don't forget to Pin your favorite images!