Floral Card
Vintage floral card that is just waiting for you to add your own text. Found in the dusty archives of a museum collection, this vintage chromolithograph postcard dates back to around 1900. There was no other information shown on the card.
I like the way it looks as if the entire image was printed on cork. The large red and yellow tulip flowers cradle the notecard where you could easily add your own personal message. The card is white with a bit of blue rick-rack like trim around the edge. There's also some green leaves and hot pink flowers to complete the overall picture. It seems both muted and bold at the same time with all of the bright colors printed on the mottled brown background.
It's been resized to 4 x 6 postcard size and is just waiting to be downloaded and used on your next creative project.
I wasn't sure where the best place to put this floral card image would be. I've added it to the frames category but it could easily be included in the flowers or printable tags categories as well.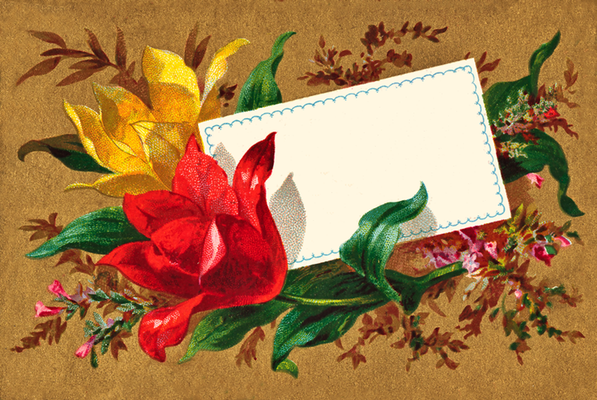 Thank you for visiting Free Vintage Art. Don't forget to Pin your favorite images!