Floral Scrapbook Frame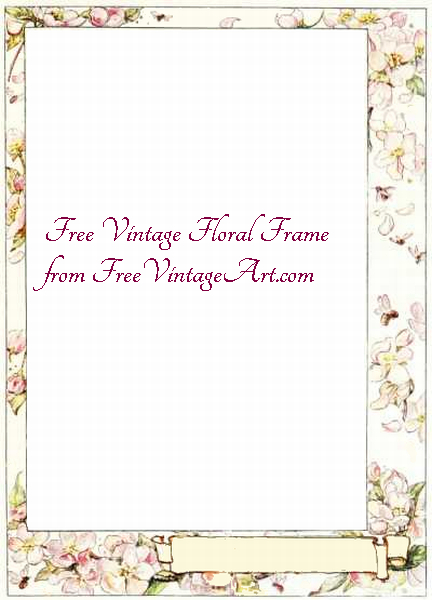 Honeybees and roses decorate this printable floral scrapbook frame. Rescued from a children's book from 1908, this frame originally had a drawing inside but the scan wasn't so good and I think the frame looks better without it anyway.
The book where this floral scrapbook frame was found was published in 1908. The book was entitled The Queen Bee and Other Nature Stories. Many of the illustrations contained within this lovely children's book were of flowers and bees. Don't be surprised if you see many more illustrations and a few more scrapbook frames on Free Vintage Art from this unnamed illustrator.
It is a bit lightly colored, it does remind me of spring, but I think that the pastel colors allow whatever photo or text you put in the center to really stand out. You could easily make it a bit darker What really makes this floral scrapbook frame special is that it includes a ribbon banner at the bottom where you could include a short description of the image it frames.
As it is now, this printable scrapbook frame measures 5 inches tall by 3.6 inches wide or 600 pixels tall by 432 pixels wide. It has plenty of room for a photo but will still fit nicely on most scrapbook pages.
Thank you for visiting Free Vintage Art. Don't forget to Pin your favorite images!