York Beach
I just love these mid-century postcards. So many of them include fine-art style watercolors and landscape paintings like this one. We know this postcard dates back to at least 1951 as it was postmarked on August 27th of that year. The front of this American landscape postcard is entitled Surf at Nubble Light, York Beach, Maine. It depicts the lighthouse at Cape Neddick as the sun is setting and making the sky glow peach.
This postcard is in the public domain because the publisher did not include a copyright date. Not sure that's entirely fair when I think about it but without that date, US Copyright law says that it is free for us to use.
This vacation postcard was produced by Tichnor Bros. Incorporated of Boston Massachusetts. One major American collection of their works contains around 25,000 pieces. The postcards were printed in color on a linen texture and many of them were produced between 1930-1945. Many of Tichnor's cards featured American vacation destinations.
Nubble Light is a lighthouse located in York, Maine. The lighthouse station was established in 1879 when the lighthouse was built. It wouldn't be until 1987 that the lighthouse would become automated. The rock promontory the Cape Neddick Nubble Lighthouse rests upon is also home to the keeper's house (built in 1879), an oil house (from 1902), a storage building and a boathouse from 1978. This vintage postcard shows a slightly different group of buildings, or at least a different viewpoint than many modern photographs of the lighthouse.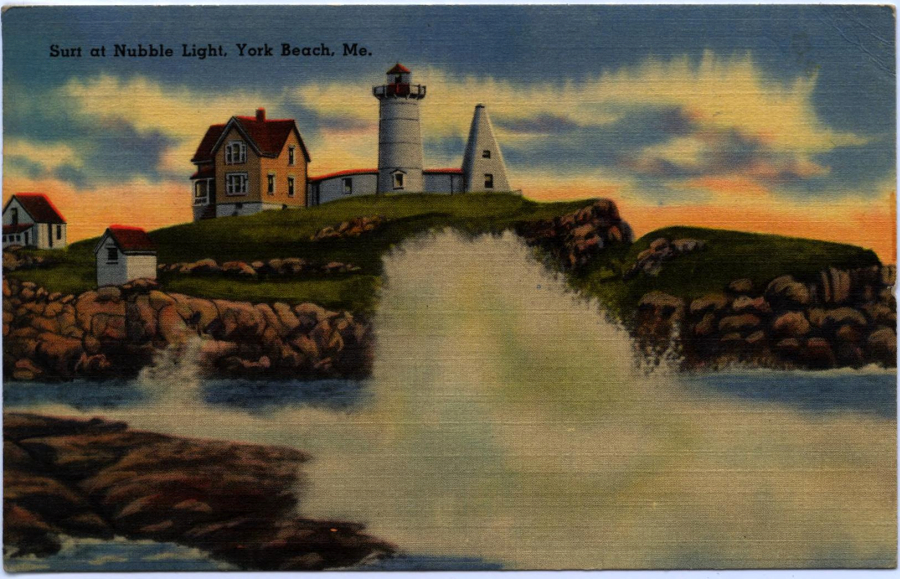 Thank you for visiting Free Vintage Art. Don't forget to Pin your favorite images!