Dancing Witches Post Card
This dancing witches Halloween postcard includes a lot of fall and Halloween imagery. It dates back to at least 1912, according to the postmark on the back.
Three adult witches and what appears to be two children dance around a large lit jack-o-lantern. A large black cat with shining green eyes stands with its back arched and its tail in full fluff ready to challenge all who approach. A pair of bats fly overhead, just next to the golden moon. A large brown owl flies overhead, keeping a watch over everyone else. And, finally, a red ear of corn makes up part of the golden frame surrounding the entire graphic.
The card also features a short message:
Hallowe'en
May each old Witch that here is seen,
Bring you Good Luck on Hallowe'en.
I'm not sure why they have added the apostrophe in between the 2 Es in Halloween but I've included them here since that is how they are on the card.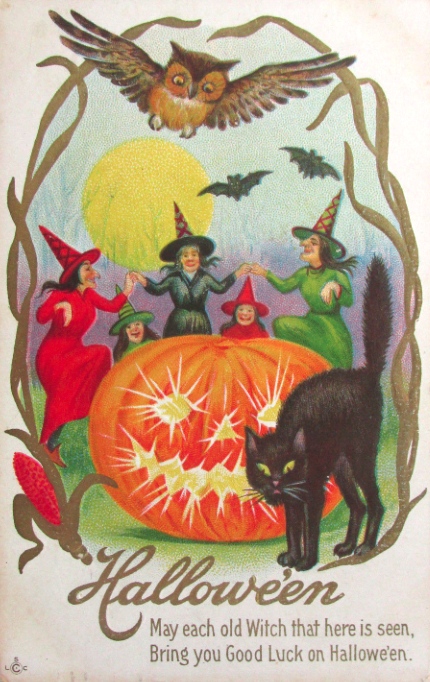 Thank you for visiting Free Vintage Art. Don't forget to Pin your favorite images!