Clematis Flowers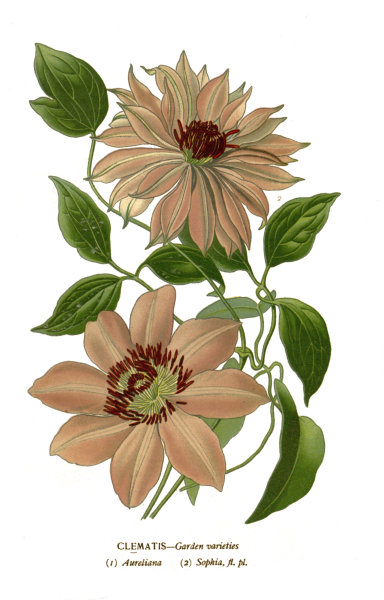 Clematis flowers are one of my mother's favorites. She always has at least one plant growing in her garden. This vintage book plate includes two different varieties of clematis flowers – Aureliana and Sophia. The book is one of the many wonderful books published by Frederick Warne & Co. in the late 1800s. This one contained over 300 colored plates. I don't know if I'll be able to share all of them with you but I do hope to share more of these wonderful flower images with you in the future.
Clematis are plants that grow on vines. They bloom quite profusely but during the winter those vines look dried, brittle and most decidedly dead. I think they are a bit of a fussy plant because the dead branches should be removed before the leaves return in the spring. The problem is when all of the vines look equally dead, it is tricky figuring out which ones are simply dormant and which ones need to be removed. Though it supposedly decreases the bloom, it is far easier to wait until the leaves return to remove the dead branches.
OK, enough talk of dead branches and on to these beautiful clematis flower images.
Let's talk about clematis aureliana (the top flower). Everything I'm finding that mentions this flower does two things…uses this book plate to illustrate them and says they are porcelain blue. Perhaps, the artist coloring these flowers didn't know they were supposed to be blue or the species being discussed is not the same one in our flower image.
I really like the way this particular flower looks. I think it would work great, with a little color work, for Christmas. It reminds me a bit of a poinsettia.
As to clematis sophia, it appears to be a lilac-purple colored flower.
Neither one of the clematis flowers in this vintage book plate appear to be true to life. Personally, I like the color. I think it's interesting. But, if you are looking for authentic coloring, you might need to keep looking or get a little clever with your photo editing software.
I have also gone ahead and isolated each of the flowers for you. I think the flowers are quite beautiful and could used in a variety of projects. I had a little fun with color and also made a blue clematis flower image for you. The joint picture should print at 4×6 inches and each of the individual flower pictures are close to four inches square.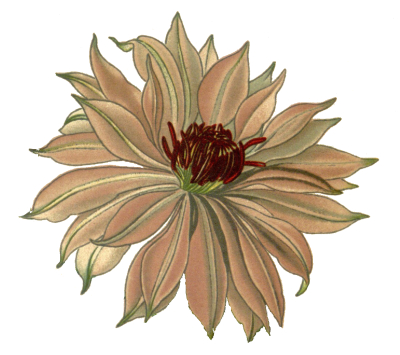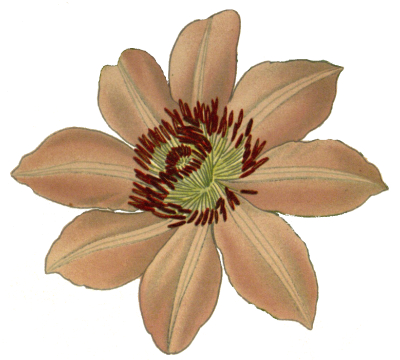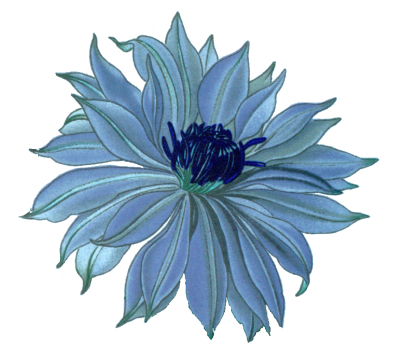 I love the way these clematis flowers were painted. The stamens look almost like velvet and the pink/peach color is quite interesting with slight hints of blue. I hope someone can make use of them and enjoy them as much as I do.
Do you have clematis growing in your garden? How do you keep them pruned? Do you wait until they leaf or do you try to do it when they are dormant like you are supposed to?
Thank you for visiting Free Vintage Art. Don't forget to Pin your favorite images!