Grapes & Leaves Scrapbook Page Template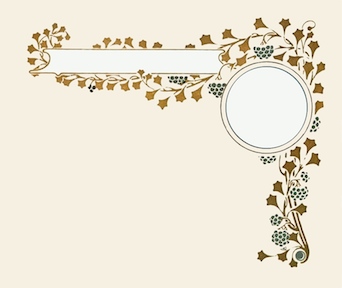 Found this wonderful scrapbook page template in an old French book about ornaments and designs. There was some odd designs in the circle but it looked like the absolute perfect place to add a photograph.
It looks a bit small on the screen but it should print around 4 inches by 4.5 inches. The design also seems to hold up fairly well to being resized. I like the overall simplicity and how it could be used as a wonderful frame for text, a large picture or just a simple scrapbook page template with a picture in the circle. There's also a nice spot to add a bit of text to your page.
I also think it would even work as a bit of an embroidery design. It's just one of those cool designs that will hopefully inspire you to create something amazing with it.
Green grape clusters interspersed between golden leaves work together to create an overall look that is both elegant and simple. It is a wonderful example of the art nouveau period.
The book where I found this image is a wonderful reprint of a portfolio first published in Paris around 1900. The book collected the graphic designs of Alphonse Mucha, Maurice Verneuil, and Georges Auriol.
Thank you for visiting Free Vintage Art. Don't forget to Pin your favorite images!