Camelia Thea Print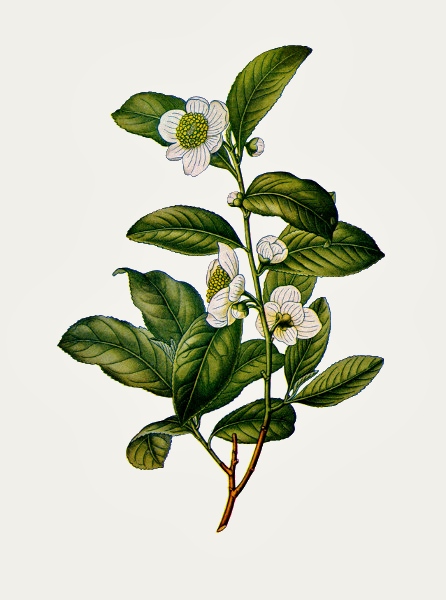 The tea plant has been fascinating scientists for centuries. Even today, we are continuing to confirm many of the health benefits of the tasty brew we enjoy from steeping the leaves of the Camellia Thea plant. I suspect that since it was a plant that originated in the Orient, the scientists of the 1800s found the plants particularly exotic and interesting. I pose that theory since I find so many botanical illustrations like this camelia thea print.
This isn't the first tea plant drawing on ReusableArt.com but I think it be the nicest. It is fully colorized and even has a bit of pink and yellow shading on the white flower petals. It did have the botanical stuff for the seeds and stuff on the original but I thought they detracted too much from the sprig of leaves and flowers in the main portion of the drawing.
This illustration is from a magazine published in 1899. Birds and All Nature often contained full-color pictures but many of them look like the wildlife photographs were of preserved/stuffed birds and other slightly off subjects. Every now and again, it seems they included a nice illustration like this one instead.
Thank you for visiting Free Vintage Art. Don't forget to Pin your favorite images!