Boy and Girl Christmas Gift Tags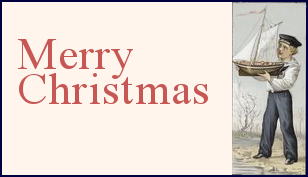 I thought this charming pair of small images from Louis Prang & Co would make the cutest gift tags to adorn your Christmas holiday packages. I was hoping to find something that I thought would work for a pair of boy and girl Christmas gift tags. Mom found these vintage images and I think they work quite well turned into tags. (You could easily edit out the Merry Christmas and use these tags for any occasion.)
The first tag is of a sweet little boy standing at the water's edge with his sailboat. He is dressed appropriately in an English sailor suit. He appears to be checking to make sure everything is in order with the sails before he sets it off on its maiden voyage.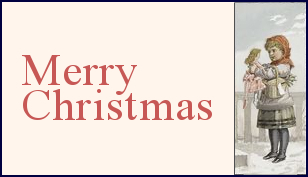 The little girl in this set appears to have waited along the boardwalk for her brother to finish playing with his new boat. While she waits, she is carefully examining her dolly. She too looks as if she is dressed in sailing colors and a bright red scarf and is an definite match for the boy.
I didn't make a printable sheet of tags because I know not every family has boys and girls and some of you might want to use just one of these boy and girl Christmas gift tags. The tags are the same size, down to the pixel, and will print at 3.21 inches wide by 1.84 inches tall.
I do hope you enjoy these gift tags and be sure to check out our entire collection of printable gift tags.
Thank you for visiting Free Vintage Art. Don't forget to Pin your favorite images!