Floral Gift Tags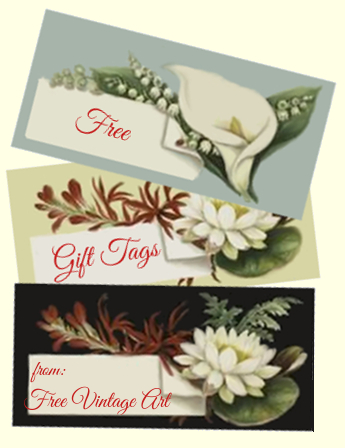 It should not have come as a surprise that one of the publishing companies that produced so many wonderful postcards and greeting cards would also sell gift tags. This group were designed to be sold as Birthday and Christmas tags. I will leave it up to you how to use them but I have little doubt that whatever you do will be great.
Louis Prang and Co. published these chromolithographs around 1876. There were fourteen floral gift tags in the proof set where these came from. In the coming days, I will share the other set with you as well.
I have cleaned up the tags to remove some of the printer's marks as well as fix where the scan didn't do such a nice job. They have all been resized to 300 pixels wide by 143 pixels tall and will print at 3 inches wide by just under 1.5 inches tall.
The one set of three includes a picture of a white lily with lily of the valley. I think the two flowers along with their leaves look nice together. The black tag prints wonderfully, even on plain paper and normal print settings.
I didn't try printing the second set but they also came with beige, gray, and black backgrounds. They have a white water lily, some fern and some other flowers that I can't identify.
Not sure if I would use them for Christmas or not but I think they would make a striking addition to a gift or could be used as product hang tags.
Like these floral gift tags? Be sure to stop by again in the coming days as I have eight more tags from this set to share with you.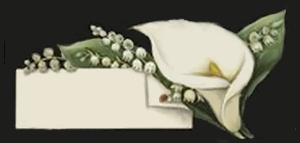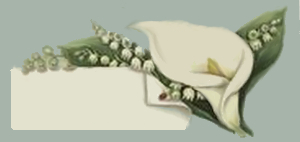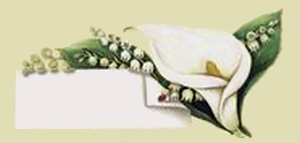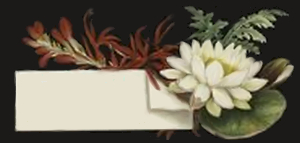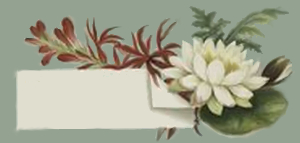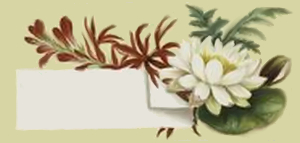 Thank you for visiting Free Vintage Art. Don't forget to Pin your favorite images!