Blue Leaf Wallpaper Border
Love this blue leaf wallpaper border. It dates back to the early 1800s.The original was block printed on handmade paper. Can you just imagine? Making the paper and then printing the design enough times to go around a room.
The over 200 year old design would be equally at home in a Victorian drawing room as in one of our homes.This piece is in the public domain everywhere, not just the USA. It features a repeating blue leaf pattern with smaller green leaves. Pillars of alternating golden and rust areas provide a nice contrasting background. Best of all, there's enough of the pattern to easily extend it to any length you need.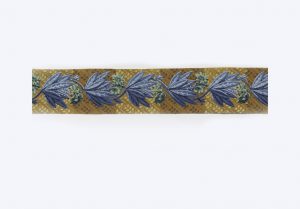 Please note, this is a larger image that is too big to fit within this page. Just click on what you see to freely access the full-sized file.
Thank you for visiting Free Vintage Art. Don't forget to Pin your favorite images!