Petrified Forest
Another of those wonderful vintage American landscape post cards for your enjoyment today.
It's maybe not as usable as the other postcards in this section of Free Vintage Art but every time I think about a tree turning to stone, it just amazes me.
This postcard was published by Petley Studios in Phoenix, Arizona. It was not dated and is therefore now in the public domain. Petley Studios was founded by one man, in his home, with 12 black-and-white humorous postcards. It would become the nation's largest distributor of scenic color postcards like the one I'm sharing with you here. (According to Jane Eppinga's work Tombstone). Robert "Bob" Teeple Petley built the business to one with annual sales that exceeded 25 million pieces. Who would have known the star athlete from Akron's West High School who started his career designing school posters, selling Life Savers candies and working for a series of newspapers would one day have his work on display at the Smithsonian Institute. The little I found about Mr. Petley online makes one wonder why a family member doesn't consider writing a biography. It's a shame they didn't think to do so before his death in 2006. I have little doubt he had some wonderful stories to tell. But, as this is a post about a postcard of the Petrified Forest, let me tell you a little about that too.
The Petrified Forest National Park was established in 1895. It is located in Northern Arizona. At the time of the publication of this vintage postcard, it was described as a vast area containing large collections of petrified logs like those shown here. It also recommended that anyone visiting the Petrified Forest should also drive through the Painted Desert.
The petrified trees are believed to have lived around 225 million years ago. The park is also known for the many fossils and historic sites. It's believed that humans first arrived at the park around 8,000 years ago.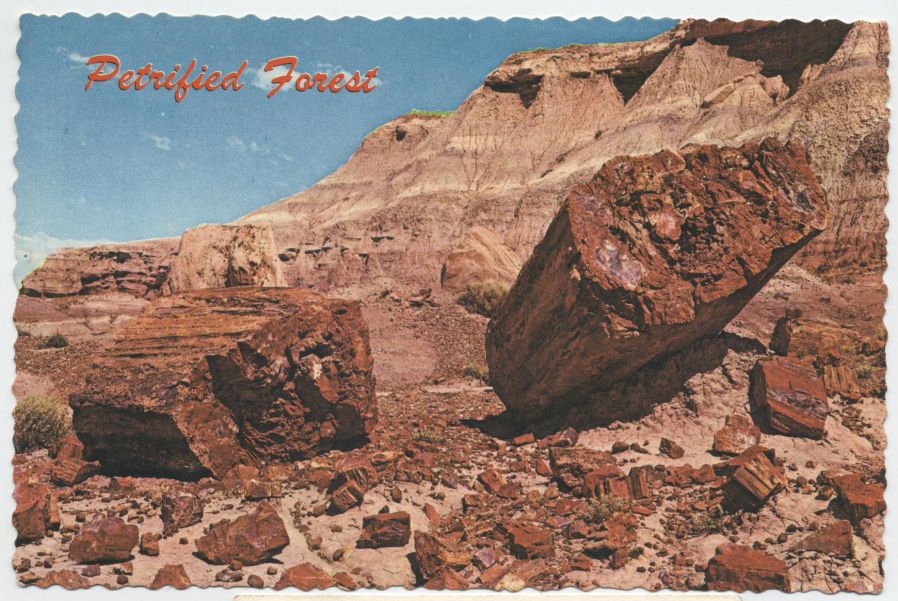 Enjoying this postcard might be the closest I get to visiting this 220,000 plus acre park but hopefully someone will stop by and tell us more about their own visit.
As always, do let us know if you've used this vintage Petrified Forest postcard. I'd love to share your work with everyone.
Thank you for visiting Free Vintage Art. Don't forget to Pin your favorite images!