California Outline Postcard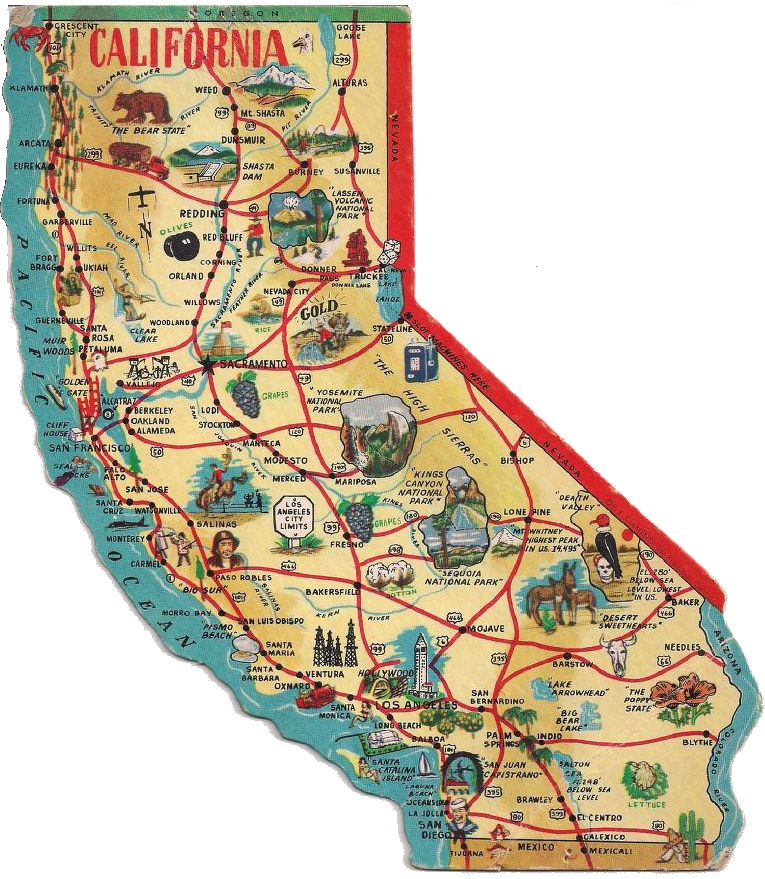 Isn't this vintage vacation postcard fun? Cut out in the shape of the state of California, this postcard identifies many of the most popular tourist destinations in the state – at least in the mid-1900s. Published without a copyright notice, this postcard is considered in the public domain in the United States.
The postcard was published by E.F. Clements of San Francisco, California. I've not found any information about this company but based on other postcards I found online from them, the company published vacation postcards that feature California and California tourist destinations as well as humorous cards that bordered on the risque.
The text on the back of this California postcard reads as follows…
A paradise for tourists, California contains a land area of 156,803 sq. mi., with every contrasting extreme of topography and climate to be found in U.S with highest (Mt. Whitney) and lowest (Death Valley) points in U.S. Capital, Sacramento; population, nearly 11,000,000. Leads world in production of motion pictures. Rich in production of petroleum, mineral products and cotton; furnishes bulk of nation's supply of farm produce. Second largest state in Union.
Thank you for visiting Free Vintage Art. Don't forget to Pin your favorite images!