Shirtwaist Blouse 1915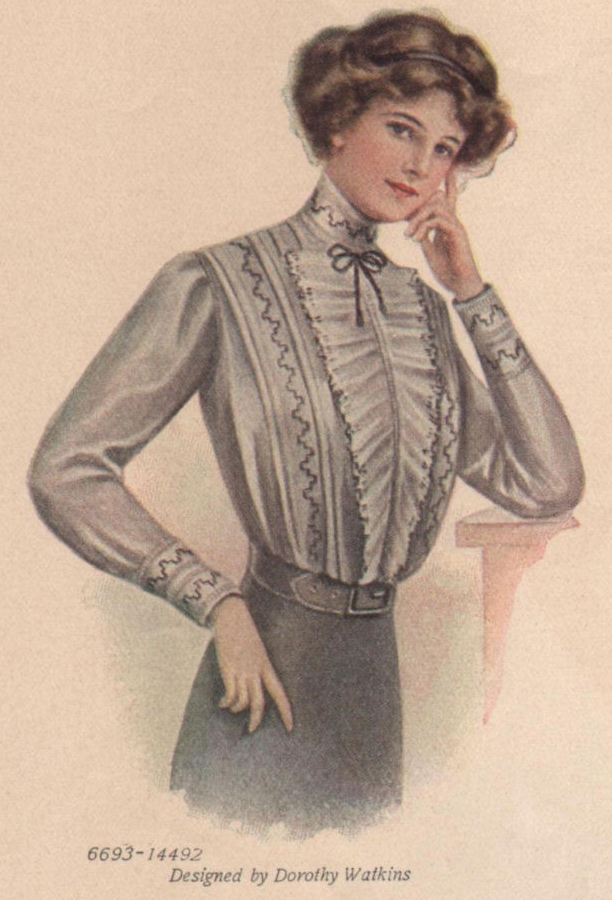 Ladies' Home Journal remains one of the leading women's magazines after being in publication for over 120 years. It has the distinction of being the first magazine in the United states to attract one million subscribers in 1907.
In those early years of the 1900s, the magazine often showcased clothing and apparel that they thought was the height of fashion. In this case, the year was 1915 and the garment was a shirtwaist blouse.
The idea was not to go down to the local department store and purchase the garment. The Ladies' Home Journal was offering these fashionable garments as sewing patterns. For fifteen cents subscribers could purchase a printed pattern by mail order.
The garment shown here, along with several others were headlined under The First Spring Waists. The waists were deigned to be "pretty and suitable waists to wear with the new coat suit". They further suggested that depending upon the time of day, different waists my be selected.
Hannah Mitchell provided the illustration and Dorothy Watkins was the garment designer for pattern 6693. The sales copy for this garment follows…
Notwithstanding that it is made on the simplest shirtwaist lines the blouse, of fine gray batiste, is distinctly marked by the conventional embroidery design.

Patterns (No. 6693) for this waist – closing at the back – come in five sizes: 34 to 42 inches bust measure. Size 36 requires two yards and a quarter of 36-inch material. Transfer embroidery pattern No. 14492 comes in a three-yard length.
Thank you for visiting Free Vintage Art. Don't forget to Pin your favorite images!