Normandy Cap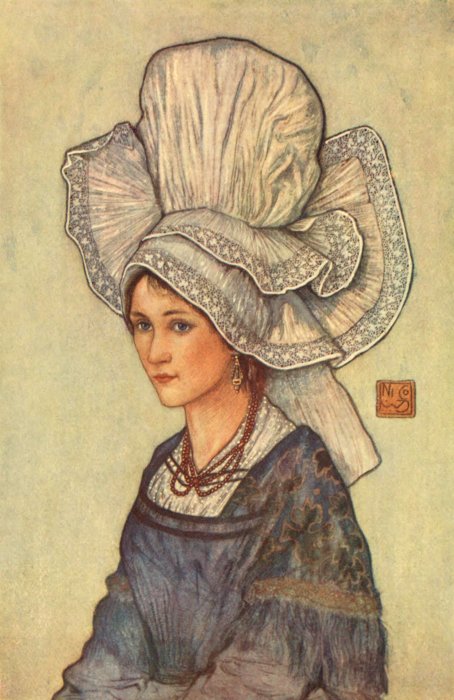 Throughout much of the world, a country's history and culture are represented by native costumes. Many of the costumes include features and elements that are unique. One such item is the Normandy cap. While I could not find what the "real" name for these elaborate hats is, the book from where this fashion image was found called it a "festival cap". (If anyone knows a more accurate name, please drop me a line and let me know, so I can update this post.
The Normandy region of France was once known for it's beautiful lace and embroidery. This fashion image features both. The large, and quite elaborate Normandy cap is trimmed with a wide band of lace and her dress has embroidery over the shoulders and across the back. The girl is quite lovely and the dress matches her dark blue eyes.
The work is signed by the artist Nico Jungman (1842-1935). Jungman was born in Amsterdam but became a naturalized British citizen. He did, however, return to his native country often to paint. His work reminds me of the old Dutch masters but his works are much more full of light and without the stark black backgrounds.
Thank you for visiting Free Vintage Art. Don't forget to Pin your favorite images!