Birthday Cake Drawing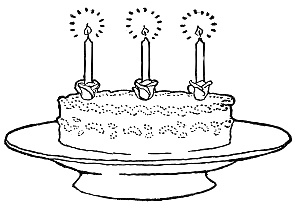 Whether you are looking for a birthday cake drawing or a cake with candles to celebrate another special event, this vintage image might be just what you are looking for. It was included in a 1909 book written for children. It would seem that a book about children hosting parties would be incomplete without discussing the cake.
The birthday cake drawing is a fairly simple one with three lit candles on a decorated layer cake. A cake stand displays the lovely cake. The candles are in pretty candle holders in the shape of roses.
The cake drawing was done in black and white. It could be easily colorized with your favorite graphics program or after you print it. The edges have a bit of chattering. You could either make the image a little smaller to make the lines tighter or smooth them out with a steady hand and the smudge tool of your graphics program. Another option would be to delete the cake stand and simply use the birthday cake.
Thank you for visiting Free Vintage Art. Don't forget to Pin your favorite images!