Vintage Butterfly Image with Strawberries
Someone on Pinterest recently pinned on of the butterflies from my earlier post vintage butterfly art. Even though our resident butterflies are long gone for the season, I thought on this sunny and cold winter day I would share with you a new vintage butterfly image that speaks of warm sunny days and lovely strawberries.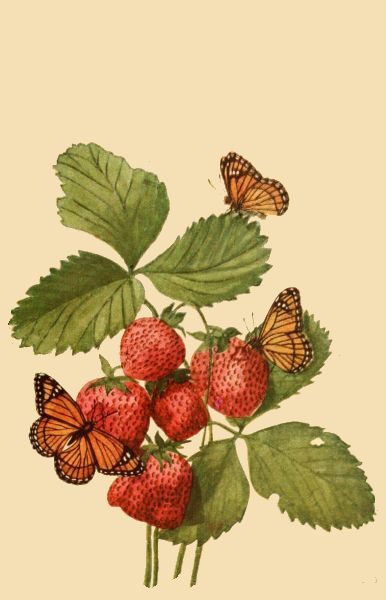 This vintage butterfly image is a bit of cover art from a book on butterflies by Clarence M. Weed (1864-1947). What a fun name for a botanist!
The book was published in 1917 and again in 1922. They both used the same image on the cover but the cloth cover was red in 1917 and green in 1922. This colored plate is from the 1917 edition and looks pretty framed in either red, green or black.
The artist is not completely identified but the author credits the color pictures throughout the book as being the work of Sherman F. Denton, Mary E. Walker and W.I. Beecroft. Based on the way the works were described it is more than likely that this butterfly and strawberries drawing was the work of Denton.
In this vintage image, three Viceroy butterflies are exploring a strawberry plant. The strawberries look good enough to eat and it is no wonder the bright red berries would be attractive to butterflies.
Viceroy butterflies are often mistaken for Monarchs. Monarchs are said to deter predators with their bad taste and some naturalists believe the Viceroys hope to fool predators by looking like them.
Don't you just love these wonderful old book plates?
Whenever I get one in my hands, I study it and think about how many people it took to publish the book and how many people have handled it since. I wonder where the book has been and the stories it could tell if only it could talk.
Yeah, I know, I'm weird that way.
Enjoy the day and if you have a sudden craving for strawberries…I plead the fifth.
Thank you for visiting Free Vintage Art. Don't forget to Pin your favorite images!