Vintage Baby Food Ad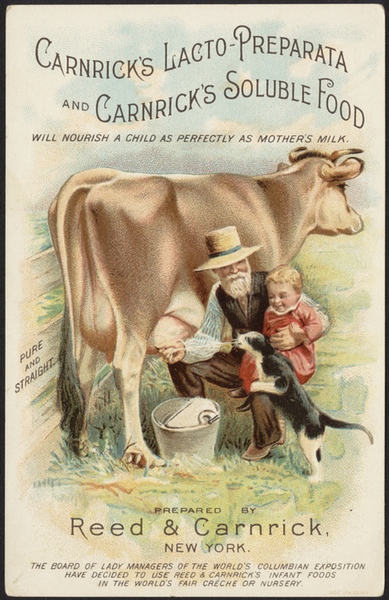 Vintage baby food ad from around 1900. This is a great example of a 19th Century trade card. Companies would pass out small cards much like we pass out business cards. They were collectible at the time which is why so many have survived.
This advertisement is for Carnrick's Lacto-Preparata and Carnrick's Soluble food. The Lacto-Preparata was a formula for infants up to 7 months old. The Soluble Food was marketed to children 7 months 'until the end of lactation.'  It was a milk and cereal food that was proclaimed to surpass all others for typhoid and all low forms of fever as a nutritive. They were also recommending it for nursing mothers and tired or exhausted people to be eaten hot.
Both of Carnrick's products were made from "healthy cows that are cared for and milked under special precautions as to cleanliness." (The information on the products comes from what appears to be an advertisement in the Canadian Journal of Medicine and Surgery in 1901.)
I think this is one of the loveliest trade cards that I've seen. It features a beautiful brown cow being milked by a gentleman. The bearded fellow holds a small child, who is dressed in red, on his lad. He has take a moment from adding milk to a jug to give a black and white cat a few squirts of milk. While I'm not sure how feeding the cat matches their claim to special cleanliness, it does make this vintage baby food ad even more charming.
Thank you for visiting Free Vintage Art. Don't forget to Pin your favorite images!