Army, Navy and Reserve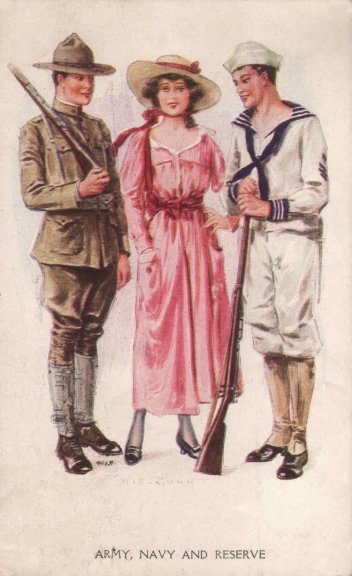 Archie Gunn, what a wonderful name for an artist who did patriotic postcards, was a British-born American artist who lived from 1863 to 1930.
Gunn was a popular illustrator on both sides of the Atlantic and one of his portraits was said to have been owned by Queen Victoria. Along with being a talented artist, he also designed costumes for Gilbert & Sullivan.
This vintage patriotic postcard is one of three that we have by Gunn. It is one of many World War I era postcards done by Gunn. According to one postcard collector, all of our Gunn pieces were part of the 1368 series. Unfortunately, the site gave no indication of the manufacturer or the dates of that series.
This copyright free patriotic postcard features a pretty young woman in a pink dress standing between a soldier and a sailor. Both men are in full uniform and have their weapons with them. They are both looking adoringly at the young woman while she strikes a bit of a saucy pose. Since the name of the postcard is Army, Navy and Reserve it might be safe to assume that the saucy gal is representing the reserves.
During World War I, tens of thousands of women served. The had positions ranging from telegraph operators, nurses and clerical support staff. Many more women worked in munitions factories and other jobs previously occupied by men to keep the nation and the war effort going.
Thank you for visiting Free Vintage Art. Don't forget to Pin your favorite images!