15 Little Bird Drawings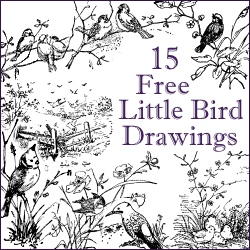 Hear the name Audubon and for most of us, it means stunning photographs and paintings of wildlife. Since Grinnell's Audubon Society was founded in 1886, the Society has changed names and published a number of magazines. Grinnel was a fan of John James Audubon's Ornithological Biography and a student at a boys school run by Lucy Audubon. He named his organization to protect birds after his two mentors.
One early magazine, published by the Audubon Society, was Bird Lore which was first published by Frank Chapman in 1899. I got my hands on a copy of the first volume of that magazine and while it did have some nice photographs, what struck my eye were these 15 little bird drawings. They were scattered throughout the magazine to decorate the pages. Some accompanied letters but most appeared on their own.
I have seen similar drawings in other works and I suspect they are stock images from a print foundry and not the work of one of the talented artists associated with the Audubon Society.
Wouldn't these little bird drawings be great for inchies or anywhere you need a sweet little accent of birdie goodness? Use them to make gift cards, note cards or whatever.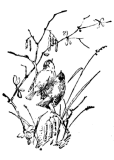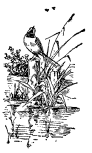 Thank you for visiting Free Vintage Art. Don't forget to Pin your favorite images!