L'Art et la Mode 1903 N°40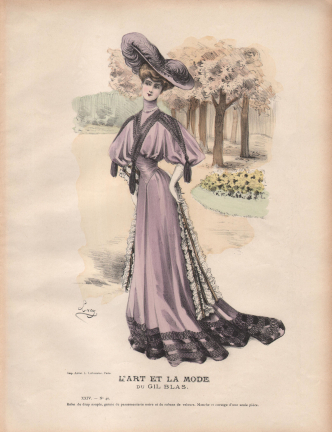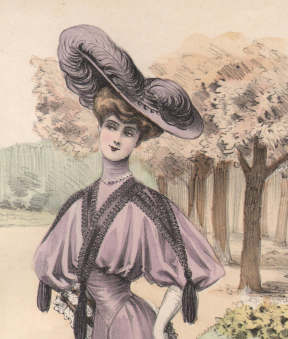 Here's the second French fashion image from L'Art et la Mode. Art and Fashion was a French magazine that discussed French society news and fashion. This pretty lady and her lovely purple and black dress were introduced in 1903. The work is signed simply "Lucy" but the inscription says the artist is "L. Fontaine".
In this 1903 French fashion image we have a fashionable lady out in the sunshine strolling along a pathway surrounded by trees and blooming flowers. She is showing off her fine dress along with a large hat decorated with flowing feathers. Both the hat and feathers are dyed to match the dress. Black ruffles and tassels accentuate the bodice and sleeves of the garment which the inscription indicates are one piece.

The skirt of the dress includes three rows of black ruffles at the bottom. What remains unclear is if the white and gold ruffles down her sides are part of the garment itself or a wrap she might be carrying as the description makes no mention of it.
This French fashion image would be in the public domain simply because it was published prior to 1923 under American copyright law. We believe that since this fashion illustration was part of a "collective work" (we are assuming a magazine would be classified as such) and was published over 70 years ago that it is most likely considered in the public domain in France as well.
Thank you for visiting Free Vintage Art. Don't forget to Pin your favorite images!